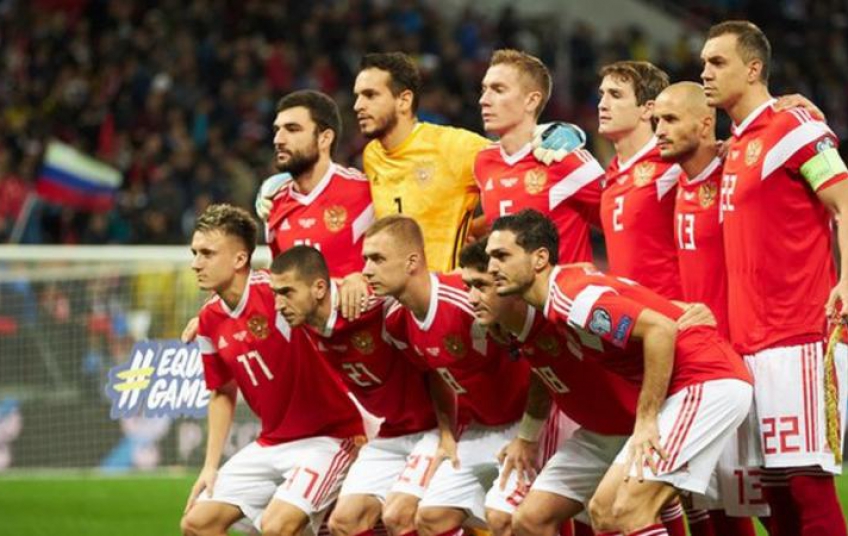 The ban still prevents Russia from competing in the Tokyo Olympics and Paralympics, set to be held next year, and football's 2022 World Cup in Qatar.
Russia was initially given a four-year ban by the World Anti-Doping Agency.
Cas said the reduction of the ban should not be seen "as any validation" of Russia's conduct.
The ban will now run until 16 December 2022, meaning Russia is also banned from competing at the Winter Olympics in Beijing in February.
World Athletics said it will decide in March 2021 whether to allow Russian athletes who can prove they are clean to compete as neutral athletes in international athletics competitions.
The governing body has previously said a maximum of 10 Russian track and field athletes will be allowed to compete under a neutral flag at the Tokyo Games, which were postponed to July 2021 because of the coronavirus pandemic.
Russia will be allowed to play at next year's delayed Euro 2020 tournament because European football's governing body Uefa is not defined as a "major event organisation" with regards to rulings on anti-doping breaches.
Wada declared Russia's Anti Doping Agency (Rusada) non-compliant for manipulating laboratory data handed over to investigators in January 2019.
Russia had been told to hand over data to Wada as a condition of its controversial reinstatement in 2018 after a three-year suspension for its vast state-sponsored doping scandal.
"The panel has imposed consequences to reflect the nature and seriousness of the non-compliance and to ensure that the integrity of sport against the scourge of doping is maintained," said Cas, which announced the ruling on Thursday.
"It has considered matters of proportionality and, in particular, the need to effect cultural change and encourage the next generation of Russian athletes to participate in clean international sport."
Russia has also been prevented from hosting international events during the same period.
When Wada announced its sanction last December, Russian prime minister Dmitry Medvedev said the ban was part of "chronic anti-Russian hysteria".
Will there be no sign of Russia at these events?
Russian athletes who can prove they are untainted by the doping scandal will be able to compete under a neutral flag.
They can wear a kit which contains Russian colours, but it cannot bear the Russian flag or any national symbol.
If their kit displays the name 'Russia' – written in any language – it cannot be more prominent than the words 'neutral athlete' which must be in English.
The Russian national anthem cannot be played or sung at any official venue, while flags cannot be displayed either.
A total of 168 Russian athletes competed under a neutral flag at the 2018 Winter Olympics in Pyeongchang.
Russia has been banned from competing as a nation in athletics since 2015.
An important decision for clean sport – Wada
After the ruling was announced, Wada said it was pleased to have "won this landmark case", adding it was important for "clean sport across the world".
"We left no stone unturned in investigating this very complex matter and in presenting our case before Cas," said Wada president Witold Banka.
"The panel has clearly upheld our findings that the Russian authorities brazenly and illegally manipulated the Moscow laboratory data in an effort to cover up an institutionalised doping scheme.
"In the face of continual resistance and denial from Russia, we clearly proved our case, in accordance with due process. In that regard, this ruling is an important moment for clean sport and athletes all over the world."
Banka added his agency was "disappointed" the panel did not completely endorse Wada's initial sanctions, saying he believed a four-year ban was "proportionate and reasonable".
"Ultimately Wada is not the judge but the prosecutor and we must respect the decision of the panel," he said.
UK Anti-Doping (Ukad) chief executive Nicole Sapstead said she "welcome" the decision to uphold the ban but was "frustrated" by the reduction to two years.
"This decision demonstrates Wada's ability to implement a global set of anti-doping rules to which everyone in sport is held," she added. "The Russia ban is the most severe sanction in sport ever imposed on a nation.
"Wada quite rightly sought to impose the maximum four-year ban. It is hard to imagine a more serious breaking of the rules in sport, so I don't understand the justification for this reduction."
A devastating decision – Usada
The US Anti-Doping Agency (Usada) called Cas' ruling a "weak, watered-down outcome" and a "devastating decision" that represented a "significant loss" to clean athletes.
"To once again escape a meaningful consequence proportional to the crimes, much less a real ban, is a catastrophic blow to clean athletes, the integrity of sport, and the rule of law," said Usada head Travis Tygart.
He accused Wada and the International Olympic Committee (IOC) of having "manipulated and mishandled this sordid Russian state-doping affair" and having put "politics over principle".
The IOC said it will "carefully evaluate" the decision and its "consequences" for the Tokyo Games and Beijing Winter Games and it will work with international federations and the International Paralympic Committee to have a "consistent approach".
Rusada said it was not fully satisfied with the decision, claiming that "not all arguments presented by our lawyers were heard".
The lawyer for Russian whistleblower and former Moscow laboratory head Grigory Rodchenkov – whose evidence was key to Russia's suspension – said Cas's decision was "nonsensical and undeserved".
"Cas reduced the ban by half, allowing Russian athletes to participate in international sporting events anyway, and in effect upheld an already-limited ban in name only," said Rodchenkov's lawyer Jim Walden.
He added that "stronger angels have emerged" to protect clean athletes after the Rodchenkov Anti-Doping Act – a bill allowing the US to prosecute anyone involved in doping at international events was signed into law earlier this month.
Analysis
BBC sports editor Dan Roan
No wonder many in Russia will hail this as a major victory for their country, given the scale of its cheating scandal, widely regarded as the greatest in the history of sport.
Even before this decision, many critics had argued that Wada's punishment was too lenient, and that there should have been an absolute ban of Russian athletes, rather than a qualified one that already ensured hundreds of competitors from the country would be in Tokyo and Beijing, albeit as neutrals.
Now, not only the ban been halved in length, but Cas have insisted on a number of allowances and caveats that critics believe make a mockery of the punishment.
The qualifying criteria for Russian competitors has been watered down. When its athletes win medals at the Olympics, there may not be an anthem or flag, but everyone will know where they are from; 'Russia' will be on their uniforms, and they will be allowed to wear the colours of the Russian flag. Even the ban on government officials has been diluted, with exceptions being made for those invited by the leader of a host country.